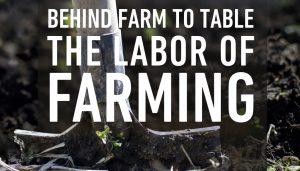 For its sixth Future Thought Leaders panel discussion, "Behind 'Farm to Table': The Labor of Farming," the Berry Good Food Foundation addressed the challenges of farming, including access to land and capital, regulatory changes, technological advances, and attracting a younger generation. According to the USDA, San Diego lost 1,000 farms between 2007 and 2012 and the average age of farmers (now nearly 60 across the U.S.) continues to climb.
When asked to discuss the challenges that San Diego farmers face, Stehleon Vineyards owner Al Stehly replied, "You got a couple days?"
He continued, "The challenges that keep me awake at night—and they say that farmers wake up at dawn, I don't know any that do, I'd like to meet a farmer that sleeps! —our biggest challenges are bringing legislators out to the farm who want to help us and explain that we take care of our labor force and that we don't need any more regulations. The reason we're worried about compliance is that the penalties are so great. I spend more time in my office than I do in the field, and that's obscene."
Pierre Sleiman of Go Green Agriculture addressed how these strict compliance laws penalize a small-scale business versus a larger one: "I grow lettuce. Imagine if someone consumed that lettuce and died. Along the food chain, that lettuce has changed hands several times. But the organization that has the least documentation is the one that ends up holding the bag. So if you're Costco or a big distributor with a compliance officer, you have your ducks in a row. But if you're a small farmer and you can't prove certain things, you risk going to jail."
While San Diego farmers have the advantages of good weather and a robust customer base, they also face expensive land and water costs. "The farmers who have success," said Eric Larson of the San Diego Farm Bureau, "are the ones who figure out a cutting-edge approach—whether it's selling their product directly to the restaurant or grocer, the variety of crop they grow, a technological advantage, or an irrigation technique—but you have to do something to set you apart to overcome those land and water costs or you are destined to fail. I would also recommend that, if you are a new farmer, go work for an established farmer and learn how to do it before striking out on your own—and to lease land, don't buy it."
"We can't keep farming the same way," added Catt Fields White, who runs several local farmers' markets and the annual InTents Conference. "I'm seeing the younger generation of farmers come back from school and understand that they must make marketing a priority. They need to be on social media, and make their packaging and displays attractive. We also recommend that they take multiple routes on selling their product: definitely sell it direct to consumers at the farmers' markets, which gives them a much greater percentage of profit and keeps money local, but also sell some of it to a wholesaler or distributor for the assurance that it will be bought and not wasted."
Nicolina Alves, a farmer who found her niche by talking to customers at the market and realizing they often bring items to work for healthy snacks, launched Farm to Office with her husband Jeff. Her life's passion is advocating for teaching agriculture early to children in schools. "We barely scratch the surface on teaching agriculture," said Alves. "It is science. It is technology. Whether they are going into farming or not, our youth need to be thinking about the food that they eat and how it gets to their plate."
When the conversation turned toward farmers' relationships with chefs, and the "farm to table" movement, Cosecha Chef Steve Brown said, "I don't use the term. It's just become another marketing tool."
Stehly piped up with how many restaurants he sees that lie about the source of their ingredients: "We applaud chefs like Steve and Mike who are truly sourcing from farms."
"We order chickens and eggs from a local farm, and as much produce as we can from local farms," said Chef Mike Ground of the Patio Group restaurants, "but it can be hard to find all the ingredients we need year-round."
Pressed for a solution, Larson said, "We definitely need to figure out how to connect the farmers to the restaurateurs and the green grocers and the local markets. I think we're not taking enough advantage of social media and the web where we could create virtual markets where people can go and trade product."
Farm policy advocate Luawanna Hallstrom brought up the growing trend of agrihoods, or neighborhoods built around farms. She cited a successful agrihood called the Cannery outside Davis, California, and is currently working on bringing one to San Diego. "Agrihoods are a wonderful way for us to reconnect as a society, educate the community about agriculture, and get people thinking about new solutions and partnerships," said Hallstrom.
"On the face of the planet, we're becoming an urban hive," added Keith Pezzoli of UC San Diego. "We're at 54% urban right now and it's likely to be 70% before too long. Developers have a metrocentric bias that we can do everything in the city and are systematically undervaluing the rural. We need to pay attention to urban-rural linkages that helps value the land, like a healthy bio-region science gateway."
"If you want to be on the ground floor of something exciting," said Larson, "take a look at what the San Diego Food System Alliance is doing. It's attempting to bring the distributors, the consumers, the researchers, and the farmers together in one place at one time and have this exact dialogue."
How You Can Support San Diego Farmers:
Become a Friend of Farming
An annual membership of just $27 will give you the opportunity to participate in special activities like farm tours and dinners, often with member discounts, while you support the work of the San Diego Farm Bureau and protect the livelihood of local family farmers.
Go Wine Tasting
Local farming means vineyards too! Taste the varietals from these 23 wineries in San Diego County.
Donate to 4-H to Support Young Farmers
We need to support young farmers! All three of the 2017 BGFF farmer scholarship award winners are between the ages of 13 and 15 and are active 4-H members in San Diego County. Nationally, 4‑H reaches almost six million young people through a community of 100 public universities. Kids complete hands-on projects in areas like health, science, agriculture, and citizenship, and are encouraged to take on proactive leadership roles.
Dine at Restaurants that Source from Local Farms
Lots of restaurants claim to source from local farms but Farm to Fork San Diego keeps them honest. Find a trusted list of partner restaurants and bars that source from farms that are committed to organic produce free of pesticides and chemical fertilizers, have a focus on land stewardship and water conservation, and treat their farm workers ethically.  
Join a CSA Program
Community Supported Agriculture (CSA) programs—consumers subscribing to weekly, bi-weekly, or monthly deliveries from a local farm—can be more than just produce. Some farmers include the option for members to buy shares of eggs, bread, meat, cheese, fruit, flowers or other farm products along with their vegetables. Enter your zip code to find a CSA near you.
Shop at San Diego Farmers' Markets
Studies show that three times as much money stays in the local economy when entrepreneurs sell directly to consumers than when wholesale distributors and retail chains—often based in another state entirely—take their cut. Find your neighborhood market, eat seasonally, and spend your food dollars locally.
Give a Farmer Free Marketing
Many farmers are so busy growing our food that they don't have time for marketing. A well-placed post (especially with a photo) on social media can boost their morale, and their bottom line.
"Behind 'Farm to Table'" panelists:
Nicolina Alves: Farmer, Terra Bella Ranch, and Owner, Farm to Office
Steve Brown: Chef, Cosecha
Catt Fields White: CEO of San Diego Markets and Founder of InTents Conference
Mike Ground: Executive Chef, The Patio Group
Luawanna Hallstrom: Farm Policy Advocate, Collaborative Communications
Eric Larson: Executive Director, San Diego Farm Bureau
Keith Pezzoli: Director, UC San Diego, Urban Studies and Planning
Pierre Sleiman: Founder/CEO, Go Green Agriculture
Al Stehly: Farmer, Stehleon Vineyards
Michelle Ciccarelli Lerach: Moderator and Founder of the Berry Good Food Foundation
Watch video of the "Behind 'Farm to Table'" panel on UCTV.
Catch up on all of our Future Thought Leaders panel discussions here.
Read about the three young local farmers who won 2017 BGFF scholarships.