Berry Good Food (BGF) held its annual "Seeds for the Future" fundraiser in support of local school gardens at Julep in downtown San Diego on August 6, 2023. Every year the dinner celebrates the bounty of our local farms by utilizing local and sustainable ingredients with a delicious multi-course meal that mingles farmers, ranchers, fishers, distillers and vintners with supporters and community stakeholders to spark conversation and collaboration. This year, thanks to event ticketing, a robust silent auction, and in-kind donations from generous local producers like Specialty Produce, SonRise Ranch, and Pali Wine Co., BGF is grateful to have raised $36,000 to put toward the pool of garden grants that will be awarded after an application process in fall 2023. Since 2018, BGF has awarded $65,000 to 30 schools and educational organizations with garden projects that support healthy eating in San Diego and northern Baja.
New this year, BGF debuted its Local Food Leader award that recognizes leadership in engaging the community about eating locally and responsibly. The 2023 recipients were Troy and Claire Johnson of San Diego Magazine, who assumed ownership in 2021 and are putting the historic publication on an exciting new trajectory, including launching the epic Del Mar Wine + Food Festival this year; Chef Carlos Anthony of Herb & Wood restaurant, who, after co-headlining the "Seeds for the Future" dinner last July, has volunteered as a guest chef teaching students how to prepare the produce they grow at three BGF partner schools; and Culinary Arts teacher Jill Enright, who instructs a class of aspiring chefs at Granite Hills High School that Chef Anthony has also worked with.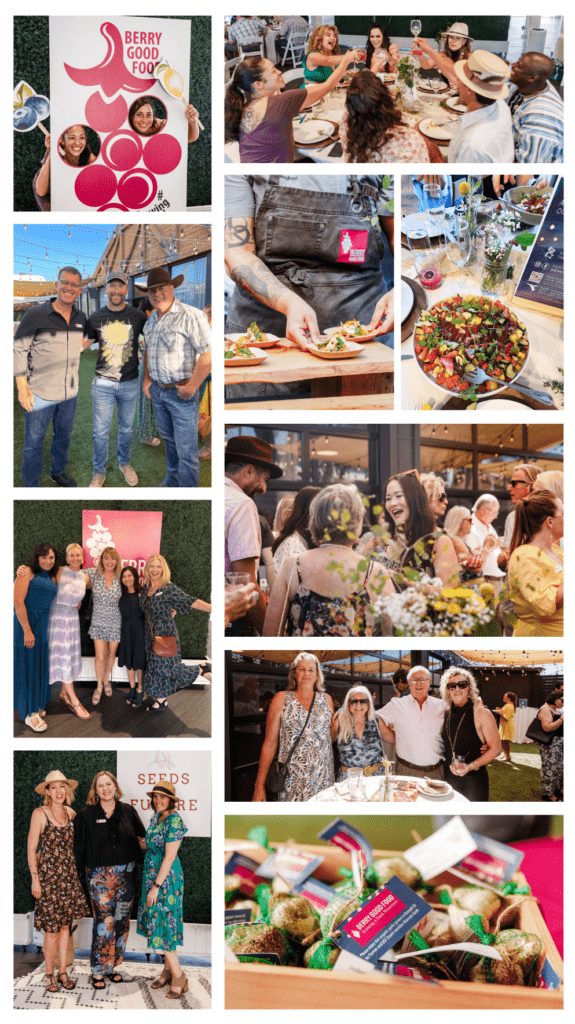 Guests were welcomed to the event with "Out of the Blue," a blueberry, lavender and lemon elixir from Julep partner Snake Oil Cocktail Co., and sustainably farmed Chardonnay and Pinot Noir from Pali Wine Co., which has its local tasting room in Little Italy. There were raves all around for the menu prepared by a team of top San Diego chefs: Chef Aarti Sanghavi of Urban Kitchen Group, Chef Erik Aronow of Marisi, Chef Miguel Valdez of Liberty Call Distilling, and Steven Torres and Gan Suebsarakham of Pop Pie Co. Dinner began with a local bluefin crudo sourced from Tunaville Market paired with D'Acquisto Farms watermelon, cucumber and lime prepared by Chef Valdez; next was an heirloom tomato panzanella and gnochetti in a decadent ragu of SonRise Ranch short ribs from Chef Aronow; followed by roasted eggplant in oyster mushroom masala by Chef Sanghavi. Slices of Pop Pie Co. Salted Caramel Apple and Key Lime pies were served on the outdoor patio as guests placed their final auction bids and enjoyed the late afternoon summer weather.
During the meal, BGF founder Michelle Ciccarelli Lerach spoke about the history of "Seeds for the Future" and presented the Local Food Leader awards to the four recipients. Below is an excerpt of Troy Johnson during his acceptance speech (full-length video is available on BGF YouTube).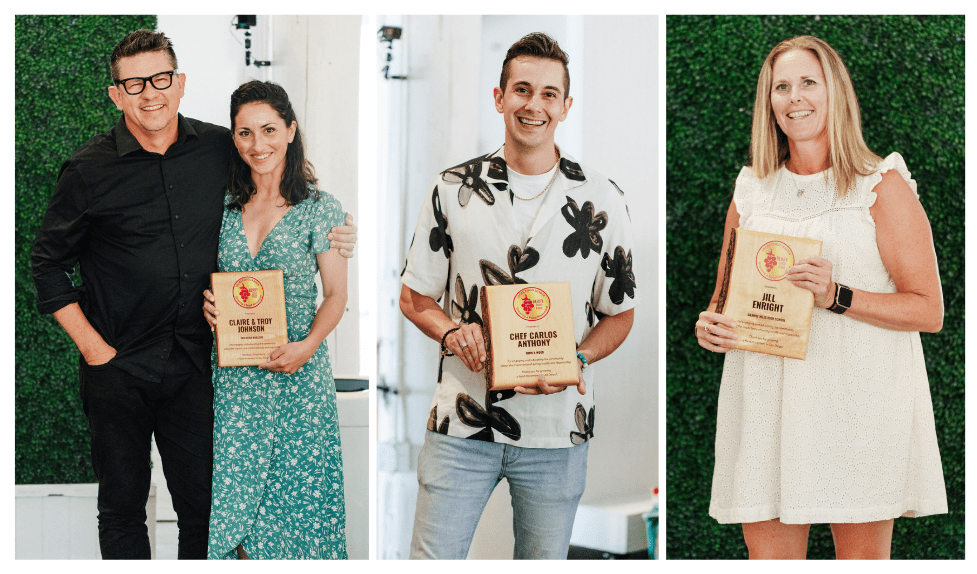 Our deepest thanks go out to all of the community members who came together to support this worthy cause once again, reaffirming the mission of Berry Good Food to build bridges between local stakeholders and working to create a stronger and healthier food system. The 2023 BGF garden grant application will be posted on our website in October. Make sure you are signed up for our newsletter to receive the news when it goes live!