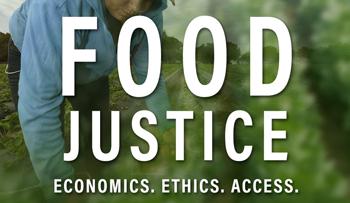 "Food insecurity doesn't always look like what we think," said Jillian Barber, program manager for Community Benefits and Health Improvement at Sharp. "It's not just the homeless. One in four children, the military, seniors, and college students fall into the food-insecure category."
"It's horrifying how much food insecurity there is on our own military bases," added Daron "Farmer D" Joffe of the Leichtag Foundation, which generously sponsored the panel discussion. Joffe also oversees Leichtag's Coastal Roots Farm, which has a pay-what-you-can farm stand twice a week in Encinitas, and has brought the model to both Camp Pendleton and the Vista Community Clinic.
"Food insecurity has a ripple effect throughout society," added Paul Watson, President and CEO of Global Action Research Center. "A researcher friend of mine found that food was used as a recruitment tool for gangs; members were promised 'quality food' if they joined them."
"Food is a human right," said Rose Hayden-Smith, historian and editor of the UC Food Observer. "People have a right to sustainable and culturally appropriate food, and producers should be compensated fairly for it."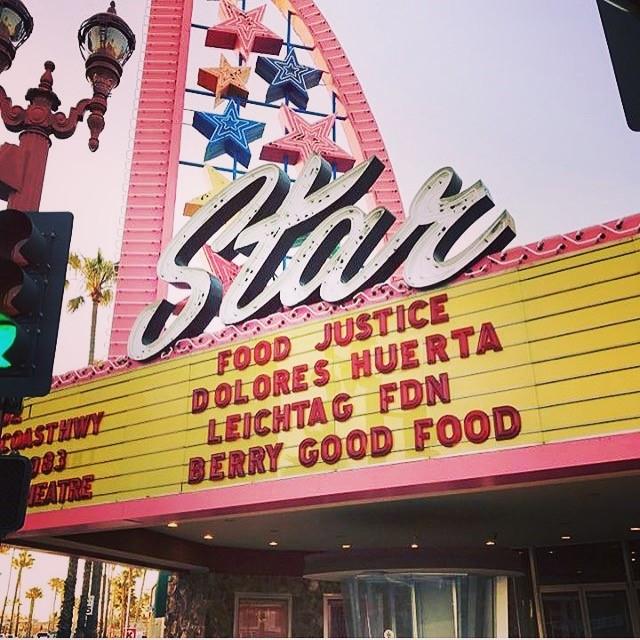 In fact, 500,000 San Diegans—1 in 6 people—do not have access to a sufficient quantity of affordable and nutritious food. Causes and solutions to this issue were discussed among seven distinguished panelists (listed in detail below) on April 21st at Oceanside's Star Theatre after attendees enjoyed a buffet of food prepared by chefs Flor Franco, Davin Waite, Stevan Novoa and others; with many ingredients donated by Specialty Produce and Sadie Rose Baking Co.
The Berry Good Food Foundation was also very honored to welcome civil rights activist Dolores Huerta as a panelist. Huerta is a labor leader who co-founded United Farm Workers with César Chávez and brought the plight of the "invisible farm worker" into the spotlight through boycott, protest, and negotiation. Their work established health and benefit plans for farm workers and they were able to remove toxic pesticides like DDT that threatened the health of laborers, consumers, and the environment.
"The problem is that, even though we got the Dirty Dozen pesticides banned in the United States," says Huerta, "those toxins have been sent off to Mexico, and Mexico grows a lot of our food, so it's a worldwide challenge."
The challenge is indeed daunting when you consider the business and governmental entities at work on the other side. Huerta was recently asked by Coca-Cola to oppose legislation that would block sugary drinks in exchange for a generous donation to her foundation, which she declined.
"This shows you how much corporations control the conversation and sway public opinion," said Dave Murphy, a fifth-generation Iowan farmer and founder of Food Democracy Now! "This is why it's so important to support public policy."
"This may sound crazy, but food is poison," said Huerta. "People with diabetes lose limbs. We subsidize meat, dairy, and poultry, but not vegetables. We have to push the government to subsidize healthy food."
"The next step is banning glyphosate," said Murphy. One of the most widely used weed killers in the world, glyphosate is the key ingredient in Monsanto's Roundup and there is mounting evidence that it is causing chronic disease. A recent study also showed disturbing levels of glyphosate residue in common foods like Cheerios, Oreos, and Stacy's Pita Chips.
It was heartening to hear that doctors and hospitals are finally catching on to the idea that food, not pharmaceuticals, can be the right prescription in many cases. "Food is medicine," said Barber. "Food can be tailored for certain conditions, and doctors are now issuing food prescriptions and encouraging patients to visit farmers' markets. Some Sharp hospitals even have markets onsite in partnership with Feeding America."
Feeding America has a partnership with Vista Community Clinic as well, enabling many of its health centers to give free food to up to 4,000 diabetics, pregnant mothers, and HIV-positive patients. "SNAP [Supplemental Nutrition Assistance Program] works out to $1.40 per meal per person," said Fernando Sañudo, CEO of Vista Community Clinic. "These benefits are meant to last for a month but usually last a week."
Here are ways you can help in the San Diego area:
Coastal Roots Farm
Shop for biodynamic produce at the "pay what you can" farm stand in Encinitas on Thursdays and Sundays. Consider paying a little extra to compensate for those who need to pay less. The farm also welcomes volunteers.
Feeding San Diego
Among other initiatives: The BackPack Program aims to meet the nutritional needs of food-insecure children over weekends and school holidays. Typically, each child receives an easy-to-carry bag filled with nutritious staple items and two to three pounds of fresh produce when leaving school on Thursday or Friday afternoons.
Healthy Food Access Portal
Start a project or policy effort in your community using the portal's various resources that aim to improve access to healthy food in low-income communities, including tips on funding and grants.
San Diego Food Bank
Among other initiatives: Join the Monthly Meals Club. A monthly gift of $10 will guarantee an individual at least one healthy meal every day, every month, for the entire year. A monthly gift of $30 will provide three meals a day, every month, for the entire year.
San Diego Hunger Coalition
Become a Hunger-Free Activist and sign up for alerts to stay up-to-date on how to strengthen access to food resources through advocacy.
Superfood Drive
Host a Healthy Food Drive and ask people to donate the food bank's most needed healthy food items.
Vista Community Clinic
Donate time or money to help thousands of patients receive health care in Vista and Oceanside. Coastal Roots Farm just opened a farm stand at the Vale Terrace location!
Books that Rose Hayden-Smith recommends:
"Food Justice" panelists:
Watch video of the "Food Justice" panel on UCTV.
Catch up on all of our Future Thought Leaders panel discussions here.
For another take on the panel, check out this write-up from San Diego blogger and panel attendee Hillary Starbright.