On October 24, 2021, Berry Good Food held its 10th Future Thought Leaders panel discussion, "The Magic of Mushrooms: Revolutionizing the Future of Food, Farming and Medicine" at Coastal Roots Farm in Encinitas, California.
Attendees enjoyed a light buffet before the panel commenced, with Mountain Meadow mushroom nigiri from The Plot restaurant, fire-roasted oyster mushrooms from Chef Ron Oliver, Munchrooms mushroom jerky, and chaga chai truffles from Maya Moon Collective. Lead panel sponsor Organifi poured samples of its superfood juices throughout the duration of the panel; and gift baskets donated by Organifi, Om Mushrooms, and Munchrooms were raffled off to attendees after the question-and-answer portion of the panel.
The nature of the panel discussion begins at the very beginning of mushrooms themselves: at growth. Ivo Fedak, owner of Mindful Mushrooms, is asked what's involved with growing his mushrooms, and he explains a process of cultures generating into mycelium structures that develop further in environmentally-optimized conditions until they are ready for harvest.
Jan Hall, CEO of M2 Ingredients and parent company of Om Mushrooms, acknowledges similar and differentiating proprietary aspects in their growing process, and says that once their mushrooms are harvested, they are dried and milled into powders for product development and retail. Hall explains how their powders "contain entire mushrooms which are grown to maximize health benefits," and stresses the importance of growing and creating products that people want to incorporate into their diets and daily lives. Om currently offers individual strains in powder and capsule form along with other applications like miso broth, where multiple powdered mushrooms are mixed with plant-based proteins and seasonings to create meals.
Chef Davin Waite is asked how he utilizes mushrooms at The Plot, a plant-based restaurant in Oceanside, and any challenges in familiarizing diners with the varietals and their willingness to eat them.
"Whatever entices people to want to try it," Chef Waite replies. "Make it exciting, make it flavorful, and make it an enjoyable experience; get people excited enough about it to try it, and once they do it's hard to go back."
Chef Waite says a good starting point is incorporating mushrooms in comfort food dishes and tapping into childhood nostalgia. At the restaurant, he uses lion's mane mushrooms to make plant-based "crab," then cooks it up with a blend of herbs, spices, and a little bit of magic to create his spin on crab cakes. They have quickly become a customer favorite, and Chef Waite talks about the duality of getting people excited to try mushrooms in a new form while also wrapping their heads around something like plant-based crab cakes. He emphasizes how much he enjoys cooking with ingredients that not only taste good but are good for the body, and how some mushrooms provide him with natural energy as someone who gave up mainstream caffeinated drinks long ago.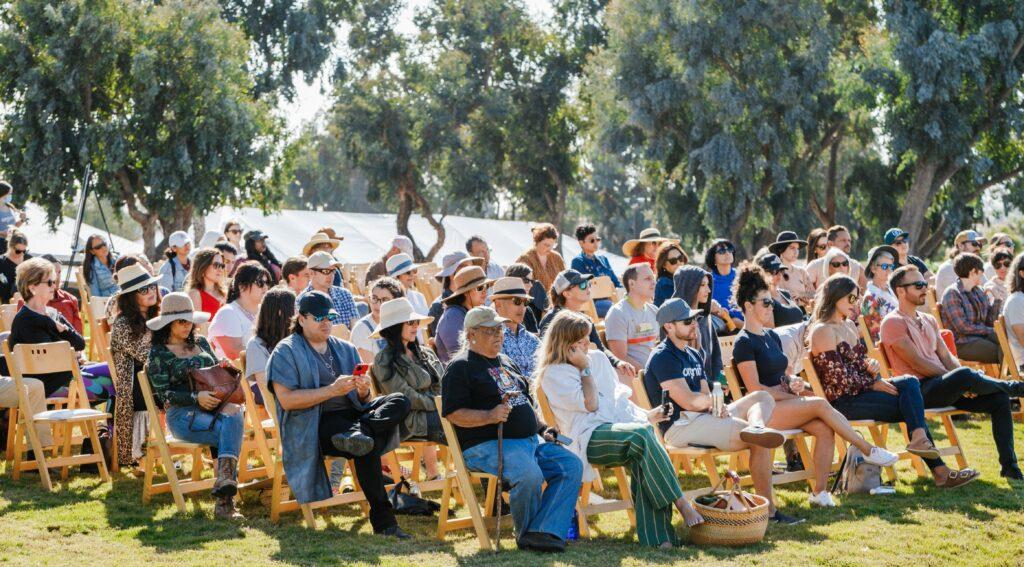 Panel moderator Michelle Ciccarelli Lerach turns to Danielle Stevenson, an environmental scientist and applied mycologist, to ask her to share her experience with mushrooms from a farming perspective.
"I started as a veggie farmer and learned how soil is degraded and contaminated, and the impacts this can have on growing the produce we eat and on our health," says Stevenson.
Her desire to clean up and restore soil health led her to fungal ecology, and soon after she began growing mycelium. In her studies, Stevenson learned how decomposer fungi could be applied to degraded soils, work to destroy contaminants like toxic metals, and restore the natural carbon content of soil, allowing it to better hold moisture and regenerate, and essentially work as a filtration system.
"We can ally with life (fungi, plants) to help clean up soil, and protect human health, and support the regeneration of ecosystems," says Stevenson.
Relating this form of allyship to general health and medicinal applications for the human body, Dr. Gordon Saxe adds that we have been co-evolving with mushrooms for millions of years and we have become natural partners and allies.
"Mushrooms have been attacked (even longer than we have) by the same predators that also prey on us, like microbes or bacteria, and have developed amazing defenses," says Dr. Saxe. "We have receptors on our immune cells, so when we take [mushrooms] in, they can help modulate and activate our immune systems, and, as a result, can have antiviral, antimicrobial, and antifungal benefits."
Dr. Saxe continues to share more about his personal research into the immune benefits of mushrooms, highlighting chaga mushroom specifically for its ability to act as a natural protector. He describes how it grows on birch trees and can often be found binding to, and encapsulating, open wounds on the trees themselves, as if they are forming a Band-Aid to help the wounds heal. It is this type of relationship that prompted further considerations around natural ways to approach Covid-19, and as a result Dr. Saxe is collaboratively running two clinical trials alongside colleagues within the UC school systems to study the effects mushrooms can have on symptoms generated by the virus.
Dr. Mark Kalina says that, as a physician who practices both primary and end-of-life care, he too is interested in exploring all ways of healing. He believes in experiencing the magic of life, and shares how he has supported patients in their use of psilocybin, a naturally-occurring psychoactive and hallucinogenic compound found in some mushrooms, as they approach life's end. He shares how it has given them wonderful experiences and mitigated fear as they transition, and believes these are the types of experiences which create "moments of life where we can learn and grow, connect and embrace, and get well."
Ciccarelli Lerach asks the panel if we are moving beyond the social stigma attached to psychoactive mushrooms.
"We are always exploring altered states," says spiritual healer Matthew Alvarado. "This is to be human. How many people had coffee this morning?"
He shares that he has been in ceremony his entire life as a member of the Kumeyaay Nation and helps individuals heal from the psychological effects of trauma with "Mata Pan" (psilocybin). He believes it can connect us to worlds unseen and create profound experiences which can help us move beyond deep psychological wounds and gain knowledge and awareness.
"There are an infinite amount of invisible worlds around us that connect us through frequency that will forever fine-tune us for our next cataclysmic event," says Alvarado. "Everything that you are searching for is not 'out there.' It's in your universe, it's within you. Medicines were our first teachers, and they were lost, but now they're coming back. I think we're at the precipice right now and we're about to see a change."
The panelists acknowledge there's never been a better time to embrace new formations of functional, dietary, culinary and medical models than now, and urge the critical importance and personal responsibility on all of us to continue reading and researching in support of our own growth.
Read more about the panelists here.
We want to express our sincere gratitude to lead panel sponsor Organifi, as well as sponsors Om Mushrooms and The Medicin Podcast.
Catch up on all of our Future Thought Leaders panel discussions here.
Watch this behind-the-scenes video of "The Magic of Mushrooms" panel created by Studio Luniste: