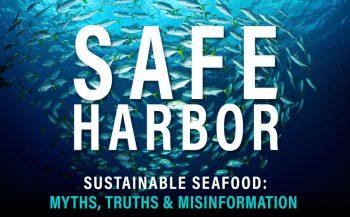 From the 1920's to the 1970's San Diego was considered the tuna capital of the world, supplying 90 percent of tuna worldwide. The industry employed tens of thousands of people, many of whom were Portuguese immigrants settling on Point Loma. It was a suitable venue then to hold a discussion about sustainable seafood, the last Future Thought Leaders panel of 2016, at United Portuguese Hall in that same neighborhood.
On November 16th, "Safe Harbor: Myths, Truths & Misinformation"—in correlation with the San Diego Bay Wine + Food Festival—brought together a fifth-generation fisherman, two chefs who lead the industry in sustainability, an aquaculture advocate, a marine biologist, a local seafood entrepreneur, a professor, and a nutritionist (listed in detail below) to discuss the state of our oceans and the types of seafood we're harvesting, as well as the best choices we can make as consumers.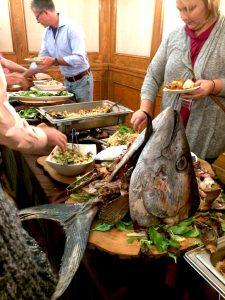 To get an idea of what "sustainable seafood" really means, watch this interview on the CW6 with fishmonger and panelist Tommy Gomes of Catalina Offshore Products and Michelle Lerach, founder of the Berry Good Food Foundation.
Tommy defines sustainability as "the harvesting of healthy stocks in a manner that minimizes the by-catch and does little damage to the habitat, and, if there is a by-catch [unwanted fish inadvertently caught while trying to catch another species], find a market for it rather than just hosing it off the deck."
Sustainability and preserving our fish stocks also means not just coveting the filet but utilizing the entire fish, and indeed the delicious buffet of food that chefs Isabel Cruz and Davin Waite offered guests before the discussion showcased six different cuts of meat from a single opah, including the head.
Some of the major takeaways from the evening:
Get comfortable with the seasonality of fish. Consumers have come to expect, and even demand, salmon on the menu year-round, when in fact West Coast wild salmon is only in season from May to September, and currently has restrictions on it due to low stock levels that need rebuilding.
Not all farmed fish is bad, particularly if it's farmed in the United States. Fish farms in the U.S. are strongly protected and regulated, and, as Paula Sylvia of the Port of San Diego said, "It's not in a fish farmer's interest to run the business poorly. With aquaculture, we can have the product year-round and produce it sustainably." Sylvia added that San Diego and Mexico have ideal conditions for fish farms, and they will provide work to displaced fishermen. So don't flinch when a restaurant tells you the fish on its menu is farmed. Simply make sure it's a U.S. farm.
Buy local seafood as much as possible. More than 90 percent of the fish we eat is imported, and only 2 percent of it is inspected by the FDA. About half of the imported fish is farmed (many in very poor conditions), and 30 percent of the imported wild catch is unregulated, illegal, or a product of slave labor.

Know your fishmonger and your fish farmer. Get to know the businesses in your community that are knowledgeable about the fish they sell and its origins, and that have an eye on sustainability. In San Diego, these include Catalina Offshore Products, Point Loma Seafoods, Pelly's Fish Market & Cafe, Blue Water Seafood Market & Grill, and Fishbone Kitchen.
Ask questions at both the fish market and the restaurant. The more interest you show in eating responsibly sourced seafood, the more pressure vendors will feel to provide it. You get to influence the food system with your choices and your spending money every single day.
Do your own research. Not getting the answer you need from your waiter? You can enter the name of a fish on websites like Fish Watch and Seafood Watch and instantly get data on seasonality, sustainability, and whether it's a good choice to consume it.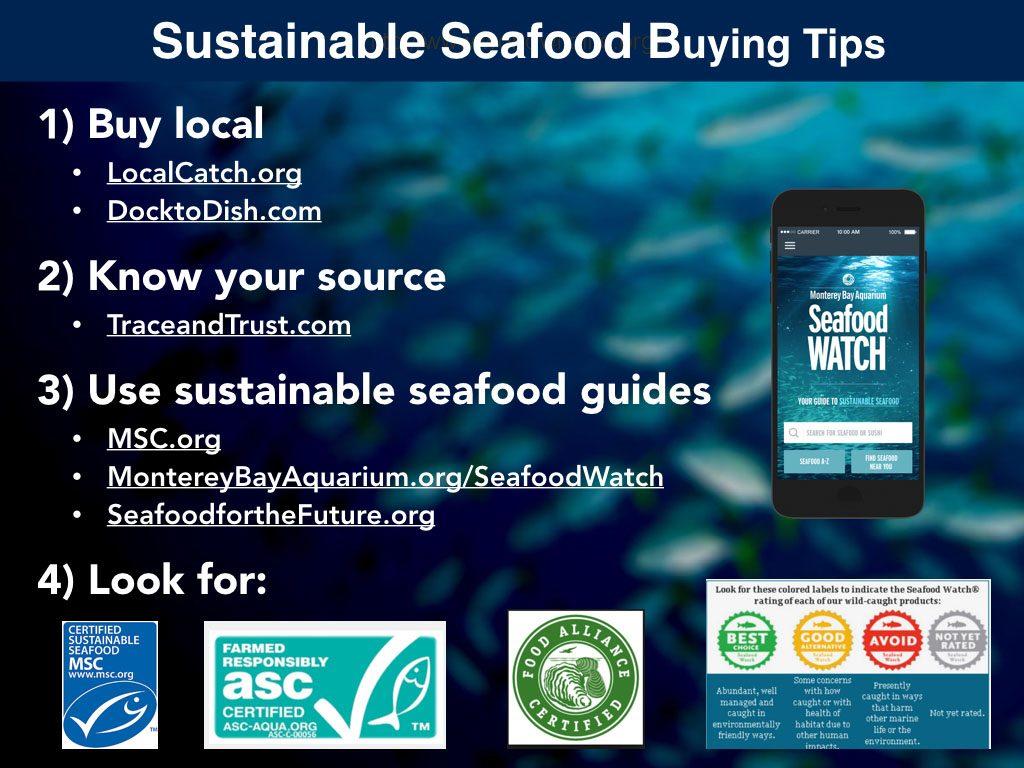 At the end of the discussion, some questions remained among attendees about two issues: fish fraud and fish contamination.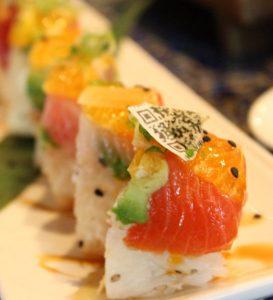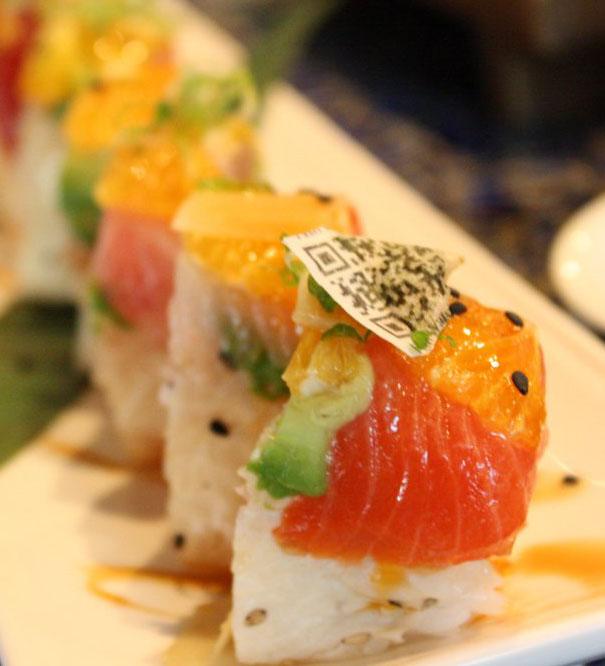 In 2013, 52 percent of seafood in Southern California was mislabeled, 20 percent higher than the national average. Panelist and chef Rob Ruiz, of The Land and Water Company restaurant in Carlsbad, is an outspoken advocate for responsibly sourced, ethically raised, and traceable seafood. Among other achievements, in 2012 Ruiz invented edible QR codes, printed on rice paper, that consumers can scan with their smart phones to understand a fish's origin.
Obviously, edible QR codes are not yet widely available, but they are a sign of the progress we are making within the industry. As the market continues to catch up to the transparency that consumers are demanding, take the time to research the shops and restaurants you frequent.
Meanwhile, high levels of mercury in many of the fish we enjoy (tuna, swordfish, halibut) made the news a few years ago and we were encouraged to try "smaller fish down the food chain" like sardines, mackerel, and trout. But when shopping for some of your favorite larger fish, Sarah Rathbone of Dock to Dish says to look for "hook and line" or "troll-caught" fish. These are usually younger fish with more omega-3 fatty acids, less mercury, and the process produces no by-catch.
One last encouraging piece of news: Amro Hamdoun, a marine biology professor at UCSD, says we're just around the corner from being able to test contaminants in the fish we buy for consumption at home. Stay tuned, and stay informed!
Want more? Read the article in the San Diego Union-Tribune about "Safe Harbor."
"Safe Harbor" panelists: