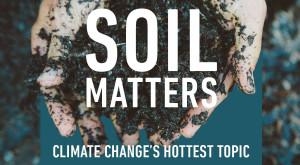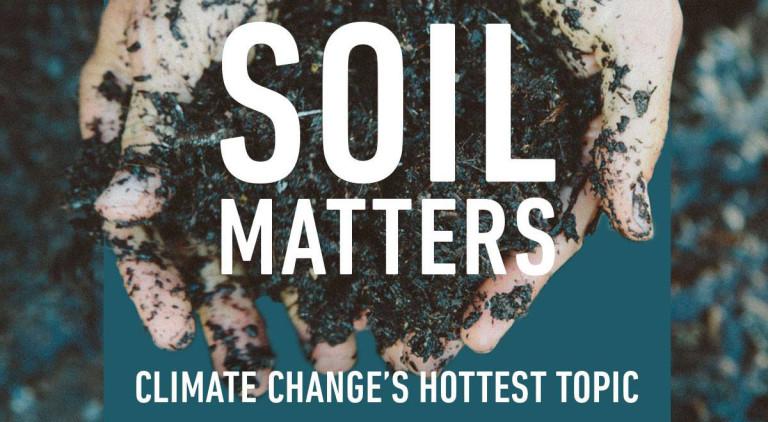 "Soil is the source of and sustains all life," said Berry Good Food Foundation (BGFF) founder and panel leader Michelle Lerach. "We all understand that it provides the vast majority of the food we eat, but few of us fully appreciate the significant role it can play in mitigating climate change."
The first of four multidisciplinary panel discussions presented this year by the BGFF, "Soil Matters: Climate Change's Hottest Topic" took place on February 2nd at the University of California, San Diego. Panelists (listed in detail below) included organic farmers, scientists, food advocates, and a sustainable retailer. The major takeaway? Creating carbon-rich soil can have a big impact on climate change. Now we just need to put a plan into action.
We are at a turning point in agriculture. We need to wean ourselves off of the large-scale conventional agriculture that has depleted healthy carbon from the soil through excessive plowing, pesticide use, and overgrazing. This type of agriculture is responsible for one-third of the carbon we've released into the atmosphere in the last 100 years, which has also led to the acidification of our oceans and damage to sea life.
Instead, we need to embrace "carbon farming" or "regenerative agriculture," which absorbs carbon from the atmosphere and puts it back in the ground where it belongs. This was the natural balance of the ecosystem before conventional agriculture distorted it with invasive practices.
So how do we do it? If you think back to your high school biology class, you may remember the term photosynthesis. Long story short: photosynthesis pulls excessive carbon from the air (we want this!) and puts it into plants where it is converted into carbohydrates and sugars that feed the microorganisms that build the healthy soil below. Healthy soil not only absorbs carbon from the atmosphere, but it also creates better water retention and drought resistance, more nutrients for the plants growing in it, a greater yield of feed production for grazing animals and more nourishing food for all of us (this is a win-win!).
This short animated video from The Soil Story explains the process in more detail:
San Diego County has 5,732 farms – more per capita than anywhere in the United States. Our community can be a leader in converting current agricultural practices to a carbon-friendly approach that produces a healthier and more sustainable ecosystem. Reducing atmospheric carbon is also a major component of slowing down the cataclysmic two-degree rise in global temperature that we are facing.
Want to make a difference in your own home? Here are some suggestions from organic farmer and panelist Scott Murray:
Grow some of your own food. Start with sprouts in the kitchen, a few pots of culinary herbs or a small garden.
Harvest rainwater and water your indoor and outdoor plants with it.
Pull your weeds and trim your plants, then use the green biomass to mulch your garden landscaping. Compost your kitchen scraps too!
Buy organic food, which supports farmers who are building nutrient-rich soil and sequestering carbon.
Encourage your friends and neighbors to make a similar positive impact every day.
"Soil Matters" panelists:
Watch the "Soil Matters" panel discussion in its entirety on UCTV.
Listen to the preview podcast on 760 KFMB.
Catch up on all of our Future Thought Leaders panel discussions here.
Michelle Lerach: moderator and founder of the Berry Good Food Foundation
Calla Rose Ostrander: climate change advisor, the Jena and Michael King Foundation
Ryland Engelhart: cofounder of Kiss the Ground
Scott Murray: organic farmer and board president of the Mission Resource Conservation District
Pablo Rojas: rancher and livestock manager at Rancho el Mogor in Baja, Mexico
Kara Wentworth: doctoral candidate in Communication and Science Studies at UC San Diego
Dr. Justine Owen: soil scientist
David Bronner: CEO of Dr. Bronner's organic personal care products
Dr. Keith Pezzoli: director Urban Studies and Planning, UC San Diego