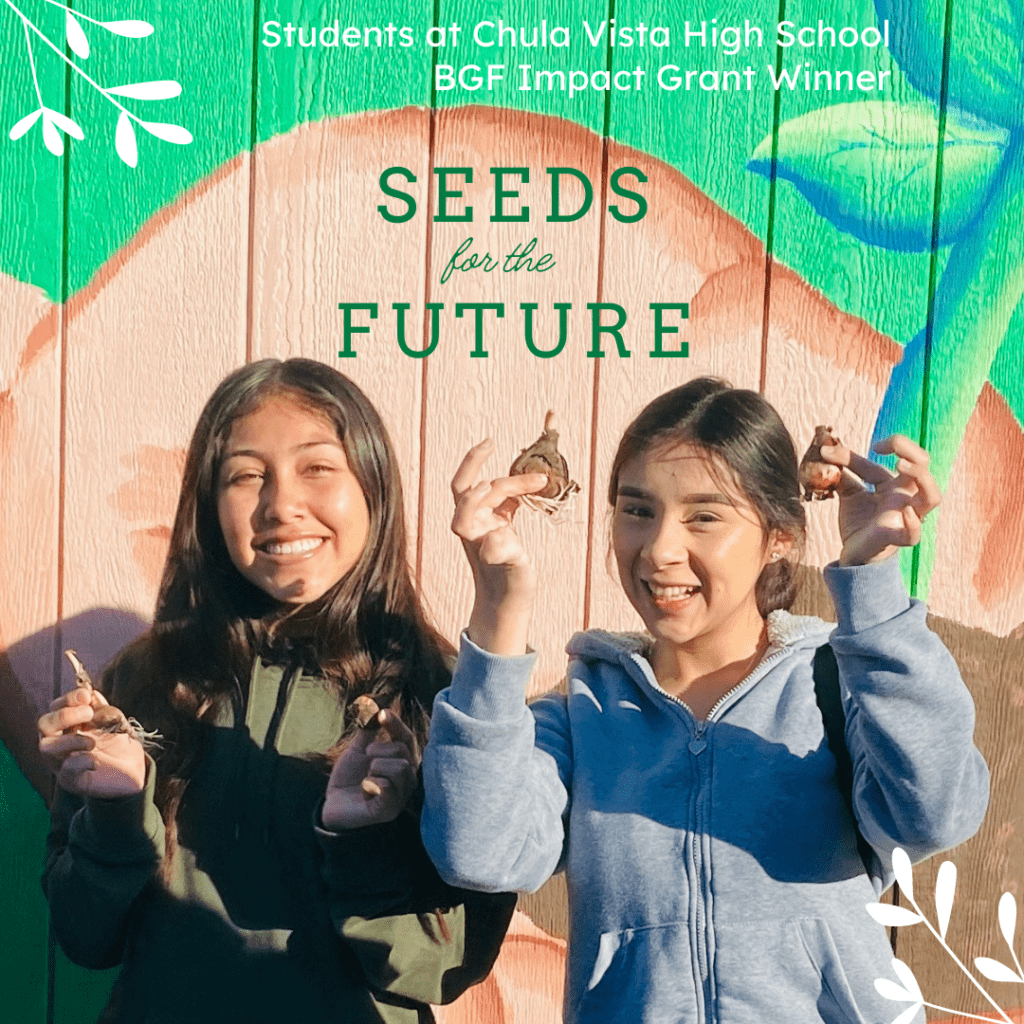 Berry Good Food resumed its "Seeds for the Future" fundraising dinner with a bang this year by hosting three uniquely styled evenings in three different locations around San Diego as a summer series. The annual dinner, which had been on pause for three years due to the pandemic and school closures, replenishes funds for BGF's school garden grant program, which has awarded more than $50,000 to 23 schools and educational organizations with garden projects that support healthy eating in San Diego and northern Baja.
For the first dinner on June 11th, 2022, guests enjoyed a seafood extravaganza at Casa de Flor in Bankers Hill, where they began in the salon with an exhibition-style service of local shellfish, sashimi, crudo, and ceviche; then transitioned outside to enjoy seafood and vegetables over open flame, courtesy of Chef Flor Franco (Casa de Flor), Chef Davin Waite (Wrench & Rodent Seabasstropub), Chef Ron Oliver (private chef and caterer), and fishmonger and television host Tommy Gomes (TunaVille Market & Grocery), who performed a live demo fillet of Omega Azul Baja kanpachi. Creativity ensued with dishes like Baja chocolate clam ceviche, El Faro Seafood shrimp and octopus ceviche, big eye tuna bresaola with stone fruit and seaweed salad, opah cheek guanciale, "fish dog" on a stick with beer cheese mayo, vegetable paella verde, and ending with a delightful dessert of frozen sweet potato cremeux, Okinawa yam brûlée, coconut coulis, brandied candied ginger and currants. Attendees also enjoyed a signature cocktail from Cutwater Spirits, One Hope sparkling wine, Sblendorio Cabernet Sauvignon, live piano music from two musicians (inspiring a fun sing-along!), and a spirited silent auction.
On July 9th, 85 guests dined under the trees in the courtyard of the Institute of Contemporary Art in Encinitas enjoying an exceptional wood-fired menu from Animae Executive Chef Tara Monsod and Herb & Wood Executive Chef Carlos Anthony. Cocktail hour began with a signature cocktail from Westward Whiskey, in addition to wine and beer offerings, and a luxurious cheese and charcuterie spread from Venissimo cheese. The three-course meal featured squash blossom salad with tomato and calamansi vinaigrette, cauliflower hummus with stone fruit and amba, whole stuffed roasted snapper with lettuce wraps and tortillas, Perennial Pastures marinated skirt steak in mole negro, and whole peach pies served with ice cream and sorbet. Guests were invited to play a garden trivia game using BGF's new seedling workbook to win a gift basket; Westward Whiskey host Hector Ramos spoke about the paired whiskey tastings with each dish; musician Matt Reischling debuted the new BGF theme song, "Growing a Food Movement"; and El Cajon Valley High School teacher Anne Fosselman spoke about how the BGF garden grant and a subsequent food justice collaboration with BGF in 2021-2022 have continued to uplift her students and the surrounding community. Studio Luniste captured the spirit of the evening with this video recap:
On August 13th, Berry Good Food wrapped up the summer dinner series hosting 80 guests at Aschbrenner Acres in Encinitas with a farm-fresh bounty of just-picked seasonal ingredients prepared by Juniper and Ivy's Chef Anthony Wells and SDCM's Chef Brian Redzikowski (Kettner Exchange, Waverly, Camino Riviera, The Grass Skirt). The event kicked off with passed appetizers and cocktails, live music from local duo Josh & Gold, and a tour of the garden as the sun set on the horizon. For dinner, attendees enjoyed whipped buttermilk ricotta with Temecula Olive Oil, balsamic glaze, lava salt, and charred bread; local fish crudo with Weiser Farms melon, cucumber, mint, and chile; wood-fired chicken skewers with Rancho Gordo chickpea hummus, Wonderland Farms heirloom tomato, pickled onion, and pomegranate molasses; and pistachio sticky toffee pudding with fig caramel and miso cool whip. BGF founder Michelle Ciccarelli Lerach closed out the night singing "Brown Eyed Girl" with the band as the stars twinkled overhead on a warm August evening.
Our deepest thanks to all the amazing chefs, supporters, and sponsors who helped make our school gardens summer fundraiser such a fantastic success, including Specialty Produce, Communal flowers, Resendiz Brothers flowers, El Faro seafood, Omega Azul Seafood, Cutwater Spirits, Sblendorio winery, Caves Wine Shop, Windy Oaks Estate, Shootz Beer, Westward Whiskey, Casa de Flor, Wrench & Rodent Seabasstropub, TunaVille Market & Grocery, ICA Encinitas, Puffer Malarkey Collective, Animae, Herb & Wood, Aschbrenner Acres, SDCM Restaurant Group, and Juniper & Ivy.
Thank you also to the generous sponsors who donated items to our silent auctions, including Meglio Knives, Skintique Spa, Izola Bakery, Koi Zen Winery, Alila Marea Beach Resort, La Villa del Valle, Adobe Guadalupe Winery, San Diego Zoo, Callie restaurant, Swagyu restaurant, Be Wise Ranch, Rancho Bernardo Inn, Golftec, Lambert Bridge Winery, Hamilton Family Vineyards, MacRostie Winery, Hafner Vineyard, and Valette restaurant.
And thanks of course to our amazing community who came out as attendees, and to those who made additional direct donations, to support local school gardens and healthy food education and access for all!
As a result of the incredible generosity of our sustainable food community, BGF raised $44,000 to replenish the BGF school garden grant fund. The 2022 BGF school garden grant application is available for download on the BGF gardens page starting October 3, 2022, and applications must be submitted by 5pm PST on October 31, 2022. We can't wait to read about all of the exciting local garden projects!