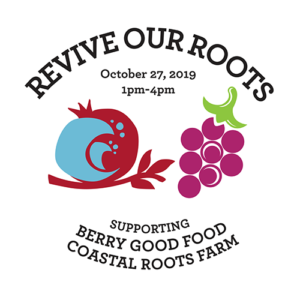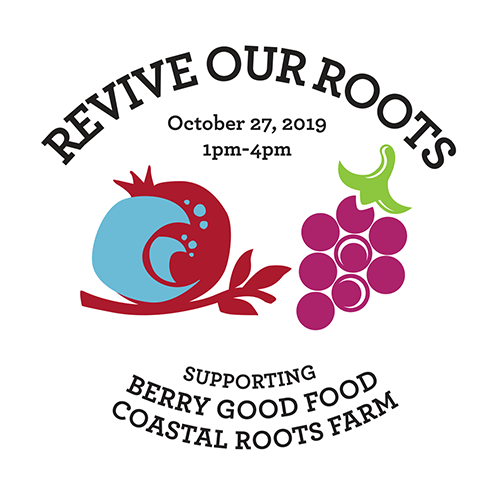 On October 27, 2019, Berry Good Food (BGF), in partnership with Coastal Roots Farm, hosted Revive Our Roots—a collaborative culinary benefit experience on the farm, supporting regenerative agriculture and food justice for the San Diego community at Coastal Roots Farm in Encinitas, California.
Two hundred people came out to support the cause, collectively raising close to $15,000 to be distributed between the two local nonprofits to back their mission-aligned work in supporting a healthy community by building relationships, nourishing community, raising awareness, and providing educational programming in support of local sustainable agriculture, food justice, and inspiring change for future generations.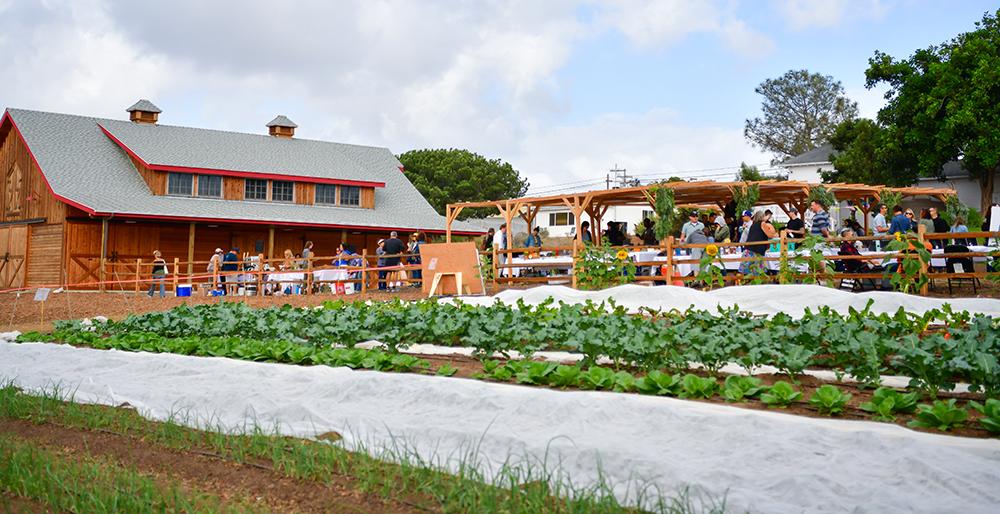 Guests were welcomed to the beautiful coastal farm that Sunday afternoon with a custom designed map that laid out the various chef and education stations, as well as reusable cups and forks to make the event as zero waste as possible. Guests were also invited to bring their own reusable water bottles that could be filled at numerous water stations, as well as encouraged to discard food waste in onsite composting bins.
The soulful voice and acoustic melodies of local singer/songwriter Lee Coulter greeted guests as they made their way through the special event space leading to an open-"sukkah" structure featuring sustainable seafood and plant-based focused creations from some of the region's top chefs known for sustainable sourcing.
Tasting highlights included stellar dishes like Chef Drew Bent's (Lola 55) seasonal coal-roasted sweet potato (sourced from Coastal Roots Farm) with horchata ice cream, toasted pistachios, tarragon, and pasilla salt; Chef Dakota Weiss's (Sweetfin Poké) plant-based squash confit poké with charred scallions, black garlic, and tempura pumpkin seeds; Chef JoJo Ruiz's (Serẽa and Lionfish) Spanish pan con tomate featuring local jack fish (sourced from fisherman Kelly Fukushima); Chef Davin Waite's (Wrench & Rodent Seabasstropub) BBQ mackerel with a lobster head honey glaze sourced from local fisherman Dan Major; and Chef Giselle Wellman's (San Diego Jewish Academy) cauliflower almond soup featuring Sunken Seaweed's truffle seaweed with Marcona almonds and chive oil.
The all-star chef lineup included other delicious offerings from Chef Christopher Logan (The Plot); Chef Jamie Brawn (Homestead Solana Beach); Chef Justin Vaiciunas (Luca at The Guild Hotel); Chef Lety McKenzie and Chef Dominique Chanelle (Hijas Del Maíz); Chef Phillip Esteban (WellFed); Chef William Eick (Matsu); Chef Lando (Enclave Adventurous Superfood); and Ryan Orlando (International Smoke).
The event also included various interactive education stations led by a team of sustainability experts in our community, offering guests a chance to learn more about what we all can do today to make a change toward growing our local food movement. Guests had the opportunity to learn about Beekeeping with the San Diego County Entomology Department, Clean Water with San Diego Coastkeeper, Fermentation with Coastal Roots Farm educators, Food as Medicine with UCSD's Center for Integrative Medicine, Gleaning with Nita Kurmins Gilson of Produce Good and O'Side Kitchen Collaborative, Vermiculture with Colleen Foster and Bokashi Composting with Becky Mendoza of Changing Tides Foundation, Zero Waste with Marissa Figueroa of Sonora Refillery, and Marine Permaculture with Sunken Seaweed. Guests could also explore the chicken coop on the farm to learn more about Pastured Chickens.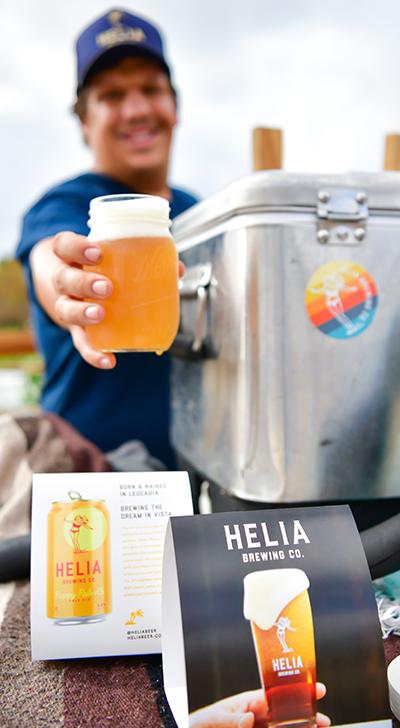 Two libation stations offered local pours of Coastal Roots Wine featuring grapes grown on the farm, OneHope wine, beer from Helia Brewing, hard kombucha using local and seasonal fall fruit by Boochcraft, as well as a sweet & tart cocktail featuring Hibiscus flavored vodka from Cutwater Spirits.
The event wrapped up by announcing the winners of the exciting silent auction items that included local culinary experiences and unique handmade items to benefit the non-profit programming of BGF and Coastal Roots Farm.
"There is a huge opportunity to increase awareness about our shared values and missions through partnering with like-minded organizations like Coastal Roots," says Jessica Waite, BGF Board President, restaurateur, and local food advocate. "We were so excited to create an experience where our community can engage with local educators while enjoying the amazing locally focused food and beverage that San Diego is known for."
Thank you to all the incredible chefs, educators, and the following sponsors who helped make Revive Our Roots an incredible success for Berry Good Food and Coastal Roots Farm:
Specialty Produce; Haeggquist & Eck; Chef Works; New Urban West, Inc.
Addy's Jams, Atilano, Belly Up, Dolce, The Empress Hotel, Fiesta de Reyes, Healthy Creations Cafe, Humble Olive Oils, Intercontinental San Diego, Loews Coronado Bay Resort, OB People's Co-Op, Oscar de la Renta, Orfila Vineyards, Sadie Steinke and Jack Simon Vineyards, The Plot, Ubaldo Riboni Designs, Teressa Lane Jewelry.
Photos: Erik Baldwin of ChaseLife Photography
For more information on how to support Berry Good Food and and learn more about Coastal Roots Farm visit https://berrygoodfood.org/donate and https://coastalrootsfarm.org/.