Over the past seven years, the annual Berry Good Night dinner has aimed to connect and celebrate local and sustainable farmers, ranchers, fishermen, chefs, and vintners.
In September 2017 we debuted a new format (#BGN100) to increase interaction and engagement. After submitting responses to a brief questionnaire, 100 "idea ambassadors" were hand selected for their commitment toward fundamental change in our food system.
Over the course of 2018, we will profile a number of the participants to highlight their efforts and create greater awareness and connection within our community.
Today we speak with:
Keith Lord, the Director of Culinary and Operations at the Wild Thyme Company, a  chef-owned and chef-driven borderless catering company in San Diego
Anna Maria Desipris, who creates a platform for chefs to learn about sustainable practices and options at The Ecology Center's Community Table Accord
Isabel Cruz, restaurateur, chef, cookbook author, and owner of the popular Isabel's Cantina on Felspar Street
Tell us briefly about your work and your organization.
Aside from my work at The Wild Thyme Company, I have launched a #nowastechef movement and campaign within the catering community, as we feed more people on a daily basis than most restaurants. I teach classes to bring practical awareness on how easy it is to use food by-products or food waste in a catering kitchen and kitchens in general. Too much passion, fuel, food, labor, water, and love—let alone money—are lost by lack of knowledge.
Did you make any interesting connections at BGN100?
I did. I met the owner of Edible San Diego magazine, a bee keeper from Uganda, a fermenter, a cheese microbiologist, and a local restaurateur that I had only previously met in passing.
Are there other ways you have successfully connected with like-minded members of the community to further your mission?
In my community I work with fellow restaurant chefs, purveyors, and farmers. Farmers are the key, or rather the first link in the process. For example, if a crop is damaged, say frostbitten, it is no longer "sellable." For a chef, that can be found-gold in lieu of being trash or compost, and I want to be that link, get that phone call.
When you're not working, what do you enjoy doing?
Cooking at friends' restaurants and pushing myself creatively, dinning out, gardening, creating multimedia art, playing screaming loud music, and driving at hyperkinetic speeds. I can't stand still.
Do you have any goals or resolutions you'd like to share? Or a favorite recipe or event?
As the holidays have just passed, here's my favorite recipe from when I was growing up [scroll to end].
Tell us briefly about your work and your goals.
As the Event Coordinator at The Ecology Center, I am passionate about hosting our community through festivals, meals sourced with integrity, and experiential education. As a bee guardian, I rescue honeybee hives from homes and businesses and relocate them to sanctuaries, gardens, and farms. I am committed to saving as many hives as I can and encouraging bee awareness through education for adults and children. I also am striving for change at the local government level, proposing policy changes that allow urban beekeeping and restricting pesticide use.
Did you make any interesting connections at BGN100? 
Yes, I met a great crew of activists in many fields. I did not meet many other beekeepers, but I connected with chefs, farmers, and ranchers that were meaningful for my work at The Ecology Center.
What other ways do you connect with like-minded members of the community to further your mission? 
Instagram mostly, as well as LinkedIn…and good old-fashioned phone calls!
What do you enjoy doing when you're not working?
Growing vegetables and medicinal herbs, making plant medicine, meditating with bees, traveling, and hiking.
In the spirit of the New Year, do you have any favorite traditions you'd like to share?
A favorite recipe for this time of year is Vasilopita, or New Year's Bread in Greek. At the beginning of the New Year, we make this bread that contains one coin secretly placed in each loaf.  Whoever wins the coin is guaranteed good luck for the year. I have fond memories sharing this with my family and community and I always loved finding the coin!
Tell us briefly about your work and your interests.
I have had restaurants in San Diego since 1998. I love to cook and I love to eat. The San Diego culinary community is a tight-knit group and I consider myself fortunate to be a part of it.
I spend a good part of my sleepless nights worrying about the environment and how restaurants impact it negatively. I also spend a good part of the same sleepless nights thinking of ways that this industry can impact it positively. When thinking of the ways my industry can make a positive impact on the environment, as one person, even small change seems daunting and unattainable.
Did you make any interesting connections at BGN100?
The BGN100 made me feel that with this organization we can make positive change. BGN100 was an amazing experience, and when I attended the next BGFF Future Thought Leaders panel, seeing some of the same people there solidified the connections I made at BGN100. I am excited because the network BGN100 is creating can be a powerful tool for the San Diego culinary community.
* * * * *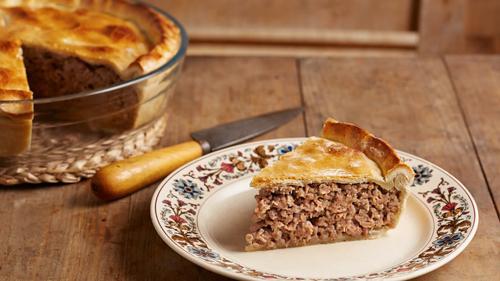 Chef Keith Lord's Tourtiere Quebecoise
Pastry
2 ½ cup all purpose flour
½ tsp fine salt
½ cup unsalted butter
½ cup vegetable shortening
2 Tbsp lemon juice
6 tbsp to 10 tbsp cold water as needed
Filling
1 ½ cup diced, peeled potatoes
1 ½ lb(s) ground pork, veal, beef or combination
2 onions, diced
1 medium carrot, peeled and finely diced
2 clove garlic, minced
2 bay leaves
¾ tsp fine salt
¼ tsp ground black pepper
½ tsp crushed celery seed
dash allspice
dash ground cloves
1 cup apple cider
½ cup water
1 egg mixed with 2 Tbsp (25 mL) water for glazing
DIRECTIONS
Pastry
Combine flour with salt. Cut in butter and shortening until mixture is a roughly even crumbly texture. Add lemon juice and water and blend just until dough comes together.
Shape into a disc, wrap and chill for 30 minutes. While pastry is chilling, prepare filling.
Filling
Cook potatoes in an uncovered pot of salted water until tender and drain. Roughly mash potatoes and set aside to cool.
In a large sauté pan or skillet, sauté beef, pork and/or veal over medium heat until no longer pink. Drain off excess fat, add onions, carrots, and seasonings and sauté until tender, about 10 minutes.
Add cider and water and bring up to a simmer. Let mixture simmer for about 15 minutes, until most of liquid is absorbed. Remove from heat, stir in potatoes, and cool to room temperature. This can be prepared a day in advance.
Preheat oven to 375 °F.
On a lightly floured surface, cut dough in half, roll out to just less than ¼-inch (.5 cm) thickness and line an 8-inch (20 cm) springform pan. Fill with tourtière filling.
Roll out remaining dough, cut a hole in center (for steam to escape) and place on top of filling. Pinch edges of crust together and brush with egg wash. Bake for 40 to 45 minutes, until pastry is a rich golden brown. Let cool 5 minutes, then remove from pan and serve.
Tourtière can be made up to 2 days in advance and reheated in a 300 °F oven.