"Any chance we get to bash a taboo, we'll do it," says Chef Davin Waite with a subversive grin. For starters, he named his Oceanside sushi bar Wrench & Rodent Seabasstropub (a tribute to his British lineage and the country's affection for giving quirky names to eateries). The décor isn't spare and sleek to convey the typical Japanese dedication to cleanliness, but dark and dank like a well-seasoned Irish pub, complete with a Clash poster and a "Keep Oceanside Sketchy" sticker on the wall. The platter they place in front of you to hold your soy sauce was once the front end of a skateboard.
This Sid-and-Nancy approach to sushi may keep some purists away, but on any given visit you will see a close-knit group of Davin Waite fans—many in the restaurant industry themselves—slap each other's backs and catch up over a cold craft beer while their favorite dishes file out of the kitchen like dominoes. And once you taste the sublimely tender pieces of tuna and salmon nigiri that alternate with more esoteric offerings like fish sperm chowder and swordfish bone marrow shots laced with tangerine oil, you begin to understand the draw. Waite turns the typical sushi experience on its head, and it's just plain fun.
It also doesn't hurt that the quality of ingredients he seeks out is beyond reproach. Eighty percent of his produce comes from local organic purveyors like Cyclops Farm, Specialty Produce, and even a middle school garden a few blocks away. A sustainability advocate, Waite introduces diners to seafood options that aren't being compromised by overfishing, like slow-smoked monchong ribs that he seasons to taste like pork and serves with a spot-on barbecue sauce made from blackberries and habanero. He buys "ugly produce" that might otherwise be rejected by chefs and grocers from the burgeoning startup Save Good Food.
This goes hand in hand with a goal of zero food waste that both he and his wife, Jessica (a vegan who runs the front of the house), are always brainstorming about, like two tops that never stop spinning. At their adjacent ramen shop—The Whet Noodle—duck bones form the base of a house-made broth in which the meat mingles with pickled radish, scallion, shiitake and fish cake. The duck fat is used to roast carrots garnished with a pesto made from carrot tops, which also usually never make it past the chopping board. Scraps go to the family dogs, and servers are told to pour leftover drinking water on the plants, not down the drain.
To top it off, the Waites are constantly cooking for free at fundraising events like the monthly Water Bill Dinners at Luke Girling's Cyclops Farms, facilitating the construction of more gardens at Oceanside schools, and once driving through the night to speak in Sacramento on behalf of the Visit Oceanside tourism council. In terms of community support, it might be time to get past the funny name and pull up a seat in front of a skateboard plate.
HONEY SRIRACHA GREENS
Makes two appetizer portions
For the sauce:
⅓ cup honey (substitute agave nectar for vegan preparation)
1 tablespoon Sriracha
⅓ cup soy sauce
Gently heat ingredients in a small saucepan to melt the honey into the sauce.
For the greens:
10 cups chopped broccoli, cauliflower, or Brussels sprouts
leaves (save the ribs for the next recipe)
½ cup diced bacon
In a large sauté pan, cook bacon until slightly crispy.*
Sautée leaves in bacon fat to soften, about  2 ½ minutes.
Add the honey sauce and toss until greens are evenly coated.
* Substitute bacon with 1 tablespoon butter for vegetarians
or olive oil for vegans.
SEARED FISH WITH SMOKED VEGETABLE RIB PESTO
Makes two entrée portions
For the pesto:
Lightly smoke the leftover vegetable ribs from the previous recipe for 10 minutes in a smoker, careful not to let them brown. If you do not have a smoker, roast them over low heat on a barbecue. Chill in the refrigerator.
In a blender combine:
6 cups chopped, smoked, chilled
vegetable ribs
1 cup apple cider vinegar
1 cup  evaporated sugar cane (or
light brown sugar)
½ cup orange juice
4 cloves garlic
½ cup Parmesan cheese
½ cup toasted walnuts
1 teaspoon pink peppercorns
1 teaspoon green peppercorns
Salt to taste, keeping in mind the saltiness of the Parmesan cheese
For the fish:
12 ounces fish (ono, salmon, opah or monchong)
1 tablespoon olive oil
1 heirloom tomato
In a sauté pan on high heat, warm the olive oil. Once the oil starts to crackle, quickly sear the fish on all four sides, 30 to 45 seconds per side. Set fish on paper towels and let cool for a minute. Cut fish against the grain into bite-size slices. Plate the fish on a dollop of pesto and garnish with diced heirloom tomato.
There will be pesto left over. Save it for future use or enjoy it with cooked pasta.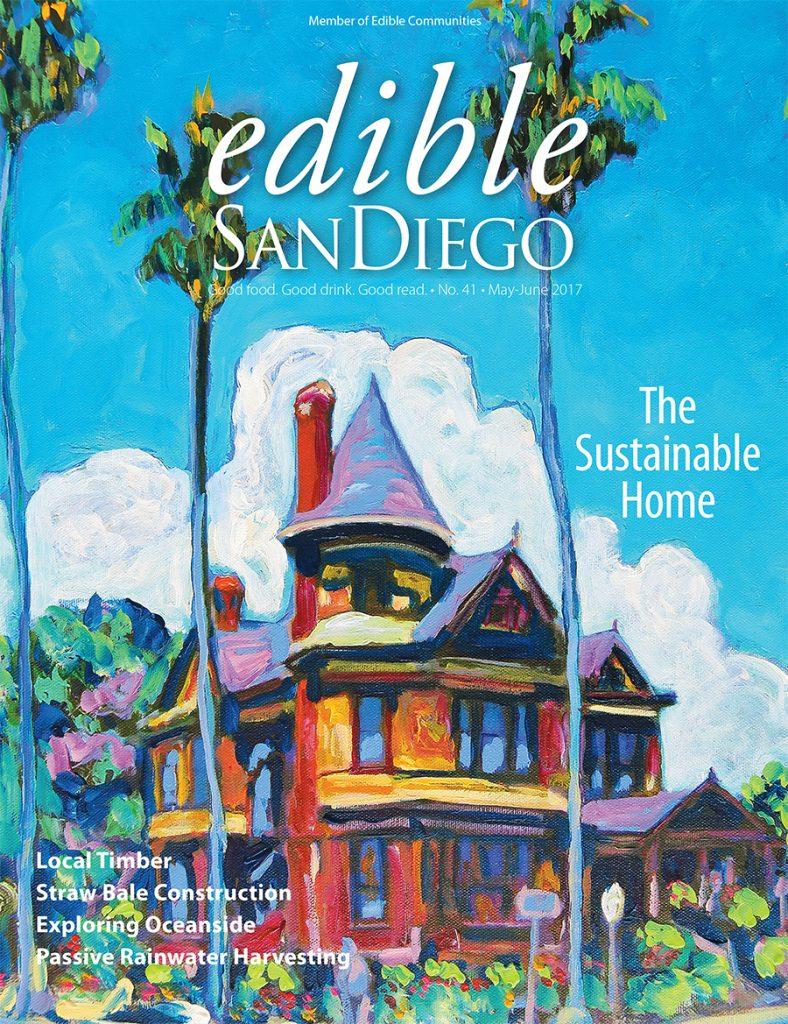 This article appeared in the May/June 2017 issue of Edible San Diego.

Davin and his wife Jessica, who is a Berry Good Food Foundation board member, have made invaluable contributions as volunteers to our organization and our heartfelt thanks go out to them.