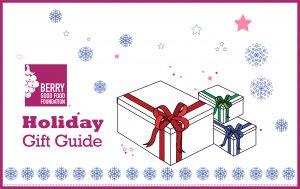 2018 was an inspirational year for our growing nonprofit: we were able to bring the world-renowned Food Tank conference to San Diego for the first time, we won our 7th San Diego Press Club Award for our Future Thought Leaders panels, we raised $31,000 for school gardens in San Diego and the Valle de Guadalupe, we awarded scholarships to the next generation of the sustainable farming and fishing community, and we shared cheese, bread, pasta and more at our hands-on Berry Good Food Academy classes.
We would not have been able to achieve this without the help of an enthusiastic community breaking bread with us at these events, and without the help of local and sustainable entrepreneurs who are following best practices and deserve our support in kind.
Those entrepreneurs have collaborated with us once again for our 2018 Holiday Gift Guide by donating experiences and food items that bring us close to the source for local and sustainable products, strengthen the community through shared experiences, and encourage us to look for relationships instead of labels. All proceeds from the purchased items below go toward the programs of the Berry Good Food Foundation. We look forward to growing stronger with you in 2019!
Questions about these gift items? Send us an email.

**SOLD OUT**
---
**SOLD OUT**
---
**SOLD OUT**
**SOLD OUT**
---
**SOLD OUT**
**SOLD OUT**
---
---
**SOLD OUT**
**SOLD OUT**
---
---